GLOBAL AND ECUMENICAL IN SCOPE
CANADIAN IN PERSPECTIVE
Wayne A. Holst, Editor
My E-Mail Address: waholst@telus.net
This email is sent only to a voluntary subscriber list.
If you no longer wish to receive these weekly columns,
write to me personally - waholst@telus.net
*****
Dear Friends:
Many of the articles collected in this issue are related
to the global virus, and I try to bring a special spiritual
dimension to what is presented.
I am also happy to introduce "Easter for Progressive
Christians" by Donald Schmidt, the fourth in a series
that I hope will entice more of our mainline churches
to become engaged with helpful bible study.
May God guide our efforts as citizens of the world to
contend with this evil disease.
Wayne
PS A reminder. If a link, below seems to be dead, cut and
paste it into the address bar at the top of your web page
and it should work.
*****
SPECIAL ITEM
Book Notice -
EASTER FOR PROGRESSIVE CHRISTIANS
A Five Session Study Guide by Donald Schmidt
Wood Lake Publications
Kelowna, BC 2019
72 pages, $12.00 CAD paper
$7.50 CAD Kindle
ISBN #978-1-77343-281-6
Publisher's
Promo:
When it comes right down to it, the Bible doesn't
really tell us much about resurrection. This is hardly
surprising, because the gospel writers are trying to
make sense of a story that, well, doesn't really make
sense – at least not to a rational mind. This has led
people to a variety of positions that roughly fall
somewhere between two extremes.
Of course Jesus never rose from the dead; people
don't do that. Anyone who says so is crazy,or
Jesus rose physically from the dead and appeared
to lots of people, and you must believe this or you
are going to hell.
While most people lie somewhere between these two
positions, they may not be sure just where exactly -
nor are they always sure that they are "allowed" to
be where they think they are. To put that another way,
many people who understand themselves to be Christian
struggle to accept the idea that Jesus physically rose
from the dead, but are afraid to say so.
This guide does not set out to "prove" or "disprove" that
Jesus physically rose on Easter Sunday. Instead, it invites
participants to engage with the biblical stories of Christ's
resurrection to try to understand what the gospel writers
meant to tell us, what they wanted us to take from these
stories. After all, they did not set out to prove a point of
history; they wrote them down because these stories had
transformed their own lives, and the lives of many others
at the time. Hopefully, reading and exploring these stories
can enhance our lives too. Ultimately, how we experience
Christ today is what matters – not what might have
happened 2,000 years ago.
--
Author's Words:
Few stories in the entire pantheon of literature evoke as
much emotion as the stories of the resurrection. For many
Christians, these are the quintessential stories, the ones
that define Christianity, their personal faith, and the whole
of human existence. That's a lot of weight to put into a
few simple stories!
When using this study, try to get a sense of where the
members of the group are coming from. Are they a mixed
group with ideas that are all over the theological map? Do
they tend to approach the stories as metaphorical and take
the stance that the resurrection could not possible have
happened? Do they take it literally and believe that it must
have happened exactly as recorded? Do they feel that there
is some point to reading these stories even though they
leave us with more questions than answers? Having a sense
of where people are coming from can keep you from getting
side-tracked.
It is important for group members to respect each other.
People's ideas may differ, and that's OK. The point of this
study is not that everyone come out of it with the same
beliefs, or to try to force people to fit a certain pattern.
The purpose of this study is to explore these powerful faith
stories so that they might inform and enhance personal
living.
As I have said in the past, you don't have to be a biblical
scholar to lead a class like this. Just keep the session moving
and the conversation on track. The goal is for group members
to exchange thoughts, feelings and opinions. It's OK for
people to disagree. The idea is to bring the group, as a group,
to
a higher level of understanding than we had before.
This book can also serve those who want individual study,
but learning in a group with various points of view can
broaden our understandings.
This book uses the term "myth" in a way that may seem
new or denigrating to some members. The term has
developed into a helpful way of understanding these
stories and is worth pursuing carefully.
One thing is certain, we cannot know for sure what actually
happened. We should not try to doubt the biblical stories
as they are, but go more deeply into understanding them
after centuries of traditional explanations.
What we do know is that Jesus died, but a few days later
a number of people discovered him again in a new way.
There is virtually no consistency to the testimonies of
those who discovered the "new" Jesus and that is why
it is a mistake to interpret their stories literally.
These stories are profound statements of faith and by
studying them we find something powerful and lasting.
On a Friday, Jesus' followers had lost all hope. By Sunday
morning some had changed their minds. For growing
numbers - over time - more and more of them became
believers. The result was that the world was changed.
We are not trying to "prove" these stories were true, but
that lives were changed as a result of being exposed to
them. That opportunity continues to this day.
The purpose of this study is to make the Easter stories
come alive for all who want to be exposed to them.
- taken and sometimes interpreted from the Introduction.
--
Author's Bio:
Donald Schmidt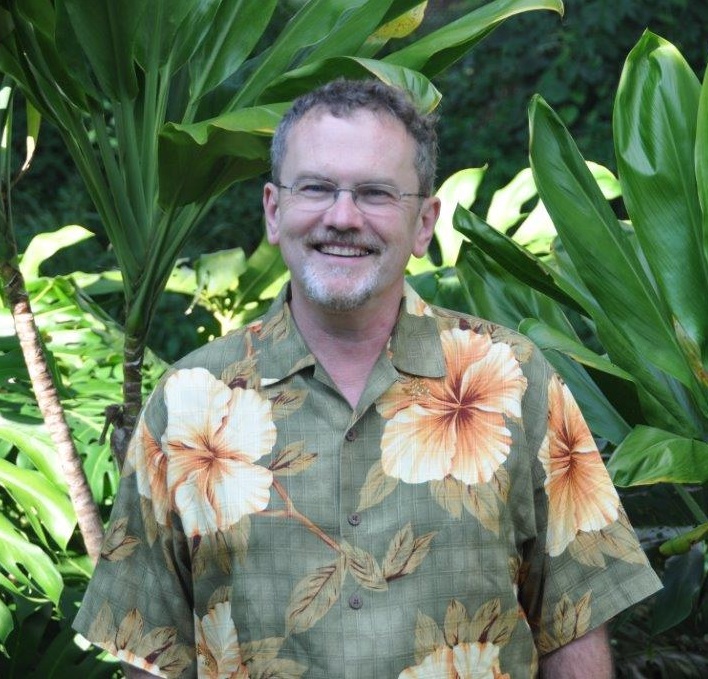 Whenever he can choose what to do, Donald Schmidt likes to spin wool, knit, and weave. In his spare time, he also works in ministry in a variety of settings. He has served parishes in Quebec, New York, Vermont, Washington, and Hawai'i. He has also worked as an Associate Conference Minister with the United Church of Christ, and is a retired United Methodist minister.
Perhaps his favorite ministry has been as an editor and write of church resources, for worship, education, and church revitalization. He has published 3 books, and has had a few pieces of music appear in various collections around the world. He also loves to travel, finding that visiting anywhere new and different can open us up to learn new things about others and, in the process, ourselves. He is a grandfather of 8, and father of 3.
--
My Thoughts:
As I have previously written when commenting on the other
books
by Schmidt in this excellent series, I have been
teaching bible study
groups for a long time. These guides
are some of the best I have
encountered and I am grateful
to the author for writing them and
to Wood Lake Publications
for producing and distributing them.
The group that I have been leading at my local church has
been
evolving with me for more than twelve years, and -
the longer
I work
with these people - the more I learn and
rejoice in
my good fortune
in being with them. Many are
older, and
bring with them a
lifetime of experience and
maturity.
I think that every congregation
should be fortunate to have
a group like this. The numbers do not
have to be large
(we have about 12 with an average attendance
of 9).
I feel blessed by the engagement we have together and
that is why I keep at it, and try to keep improving as
a facilitator.
I can confirm from years of personal experience that
the books
Schmidt writes on a range of bible studies
for progressive
Christians are well worth the investment.
With a certain healthy pride, I think my father would
be proud
of me! He participated in many studies himself,
over the years.
His theology was less influenced by
traditions that influenced
me, but we undoubtedly
share a common love for holy scripture and a desire
to share it with others.
___
Buy the book from:
Wood Lake Publishers:
https://tinyurl.com/trwg28c
Amazon.ca:
https://tinyurl.com/raxggeb
*****
COLLEAGUE CONTRIBUTIONS
Elfrieda Schroeder,
Winnipeg, MB
"In Transit"
March 9th, 2020
"My
Heroes"
https://tinyurl.com/vrybann
**
Martin Marty,
Chicago, IL
Sightings,
March 9th, 2020
"Thank God, Churches are Dying... and Living"
https://tinyurl.com/ueykwn6
**
Philip Yancey,
Colorado
Philipyancey.com
March 9th, 2020
"The Power of Love and the Love of Power"
(
Shakespeare Part Two)
https://tinyurl.com/sp222r8
**
Jim Taylor,
Okanagan, BC
Personal Web Log
March 8th, 2020
"Terrorized by a Tiny Virus Particle"
https://tinyurl.com/swutr39
**
Ron Rolheiser,
San Antonio, TX
Personal Web Site
March 8th, 2020
"Judgement Day"
https://tinyurl.com/ul326n9
*****
NET NOTES
SHOULD CHURCHES FORSAKE GATHERING
FOR THE SAKE OF THE VULNERABLE?
A Time for Sane and Realistic Assessment
Religion News Service,
March 13th, 2020
https://tinyurl.com/vaw3wrn
--
AT LEAST HALF OF CANADIANS
NOW WORRIED ABOUT INFECTION
Coronavirus Becoming Major Concern
Angus Reid Institute,
March 11th, 2020
https://tinyurl.com/sa293vb
--
GOD VS CORONAVIRUS
Is Religion Serving Us Well?
New York Times,
March 10th, 2020
https://tinyurl.com/r3op2lo
--
SCAPEGOATING MITT ROMNEY
For Standing Up for His Principles
Sightings,
March 12th, 2020
https://tinyurl.com/sfnzjmy
--
WHAT MARTIN LUTHER CAN
TEACH US ABOUT CORONAVIRUS
He Wrote About the Black Death
Christianity Today,
March 11th, 2020
tinyurl.com/sbb5ecd
--
CATHOLIC ITALY ADAPTS TO RELIGION
AT A TIME OF CORONAVIRUS
Being Catholic is a Challenge
Reuters,
March 10th, 2020
https://tinyurl.com/szosgby
--
GOD'S COMPLEX MUSIC
The Song Created In and For Me
The Christian Century,
March 11th, 2020
https://tinyurl.com/tq4vw4x
--
TRY LEAVING YOUR
SAFETY NET THIS LENT
BC Catholic/Christian Week
March 2nd, 2020
https://
tinyurl.com/vu7ygzn
--
MY FEMINIST DAD IS THE
REASON I GOT TO PLAY HOCKEY
He Supported Me Strongly
Broadview,
March 6th, 2020
https://
tinyurl.com/u84r2ym
--
ST. PATRICK - FROM MISSIONARY
BISHOP TO IRISH NATIONAL ICON
Noting His Feast Day, March 17th
Anglican Journal
March 12th, 2020
https://tinyurl.com/trl4373
*****
WISDOM OF THE WEEK
Provided by Sojourners and the Bruderhof online:
Lent is a time to renew wherever we are in that
process that I call the divine therapy. It's a time
to look what our instinctual needs are, look at
what the dynamics of our unconscious are.

- Thomas Keating
--
Lent is a time of renunciation, of simplification.
Not that asceticism has value in itself, but
simplifying our way of life can help us discover
our deepest longing, our thirst for the essential.
- Taizé Dublin Community
---
As Lent is the time for greater love, listen to Jesus'
thirst ... 'Repent and believe' Jesus tells us. What
are we to repent? Our indifference, our hardness
of heart. What are we to believe? Jesus thirsts
even now, in your heart and in the poor --
He knows your weakness. He wants only your love,
wants only the chance to love you.
- Blessed Teresa of Calcutta
--
imagine Lent for you and for me as a great departure
from the greedy, anxious anti-neighborliness of our
economy, a great departure from our exclusionary
politics that fears the other, a great departure from
self-indulgent consumerism that devours creation.
And then an arrival in a new neighborhood, because
it is a gift to be simple, it is a gift to be free; it is a gift
to come down where we ought to be.
- Walter Brueggemann,
"A Way Other Than Our Own: Devotions for Lent"
--
No cultural education, no art, no evolutionary
development helps us beyond our sins. We
must receive assistance from the ground up.
Then the steep walls of our security are
broken
to bits, and we are forced to become
humble,
poor, and pleading. Thus we are driven
more
and more to surrender and give up all that
we
have, surrender and give up those things which
we formerly used to protect and defend and hold
to ourselves against the voice of the resurrection's
truth.
- Karl Barth
--
I believe that God really has dived down into the
bottom of creation, and has come up bringing the
whole redeemed nature on his shoulders. The
miracles that have already happened are, of
course, as Scripture so often says, the first fruits
of that cosmic summer which is presently coming
on. Christ has risen, and so we shall rise…
To be sure, it feels wintry enough still: but often in
the very early spring it feels like that. Two thousand
years are only a day or two by this scale. A man
really ought to say, "The Resurrection happened
two thousand years ago" in the same spirit in which
he says, "I saw a crocus yesterday."
- C.S Lewis
*****
CLOSING THOUGHT -
Sarah Gregory
This Lent, more than others, feels like a grand
societal reckoning, one suited more for theology
of the streets than of the books. It's the theology
of getting our hands dirty in service and putting
our comfort at risk to bring about God's vision
for all of us, made together in God's image
and likeness.
(end)
*****
For those interested:
Current ACTS Ministry Activities at St. David's -
ANNUAL ST. DAVID'S LENTEN RETREAT
Mount St. Francis Retreat Centre
Cochrane, AB
Sunday, March 15th, 2019
11:30 AM to 4:00 PM

Theme: "The Way of St. Francis"
Christ-Centered Ecological Theology
Led by Spiritual Director Susan Campbell

Cost: $30.
(includes registration, lunch and refreshments)

25 persons have registered for this event.

Restful reflections and nature walks, weather permitting...
http://www.mountstfrancis.ca/
*****
ST. DAVID'S ACTS WINTER MONDAY NIGHT BOOK STUDY
A Ten Week Series January 13th - March 23rd, 2020
(Family Weekend Session, February 17th, exempted)
Monday Evenings, TM Room 7:00 PM - 9:00 PM

"FUTURE FAITH - Ten Challenges Reshaping
Christianity in the 21st Century"
Author: Wesley Granberg-Michaelson
Registration/Hospitality and Book: $60.00.
Book only: $25.00
37 copies of the book were made available for sale.
All are now sold.

Total on-site registrations: 32
(plus 3 on-line participants). Grand Total: 35 to date.
Study Notes -
https://tinyurl.com/qpx7l8n

ST. DAVID'S ACTS THURSDAY MORNING BIBLE STUDY


"Jesus' Parables and Miracles"
As recorded in the Synoptic Gospels of Matthew, Mark
and

Luke

and the Gospel of John

Ten Sessions - January 23rd-March 26th, 2020

Gathering at 9:30 AM in the St. David's TM Room
and meeting 10:00 - 11:00 AM.

--

Summary Session: Thursday, April 2nd. 10AM - 4PM
Mount St. Francis Retreat Centre, Cochrane.
$30.00 charge, includes lunch and refreshments.

Theme of the Day: "Assessing Jesus' Parables and Miracles"


​​​​​